Monorail V2 PCB [In-Stock]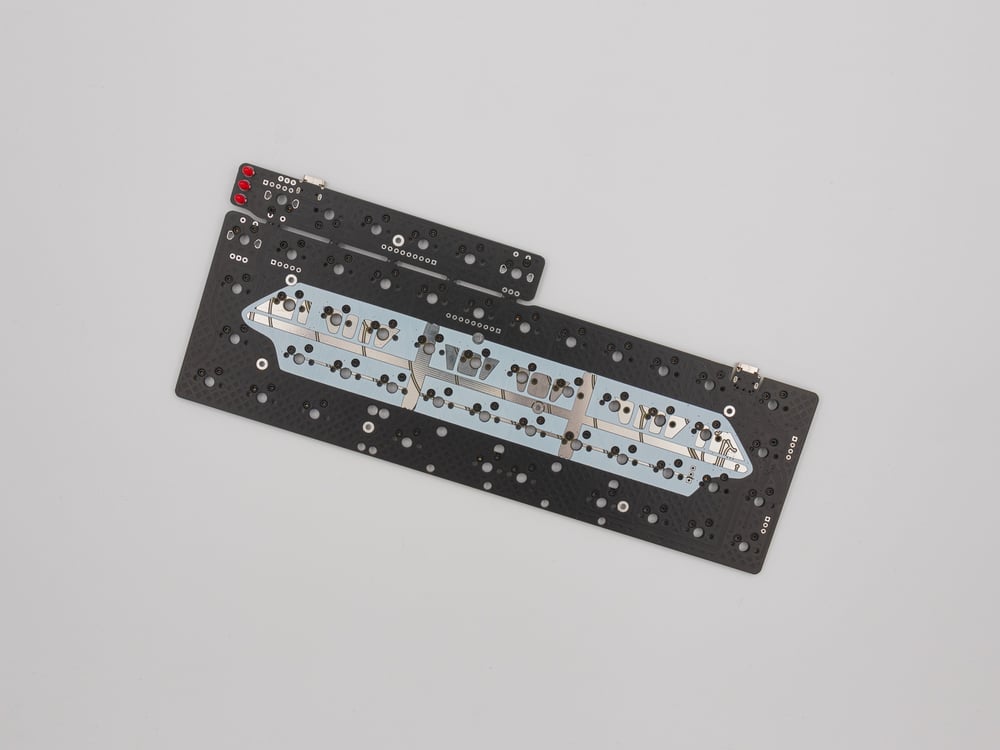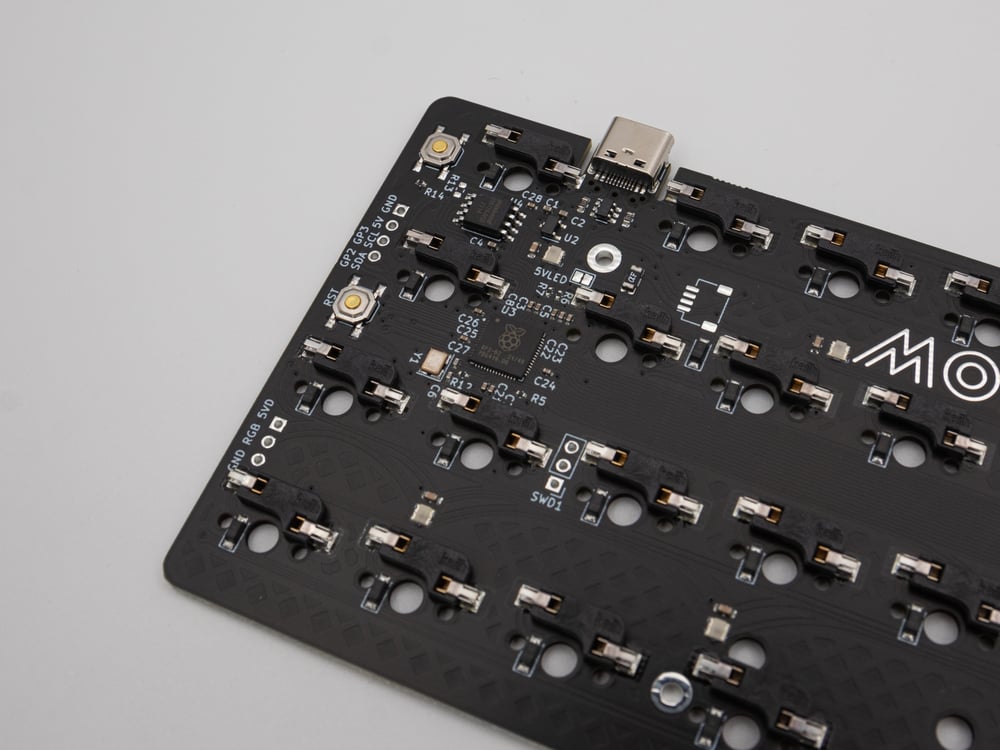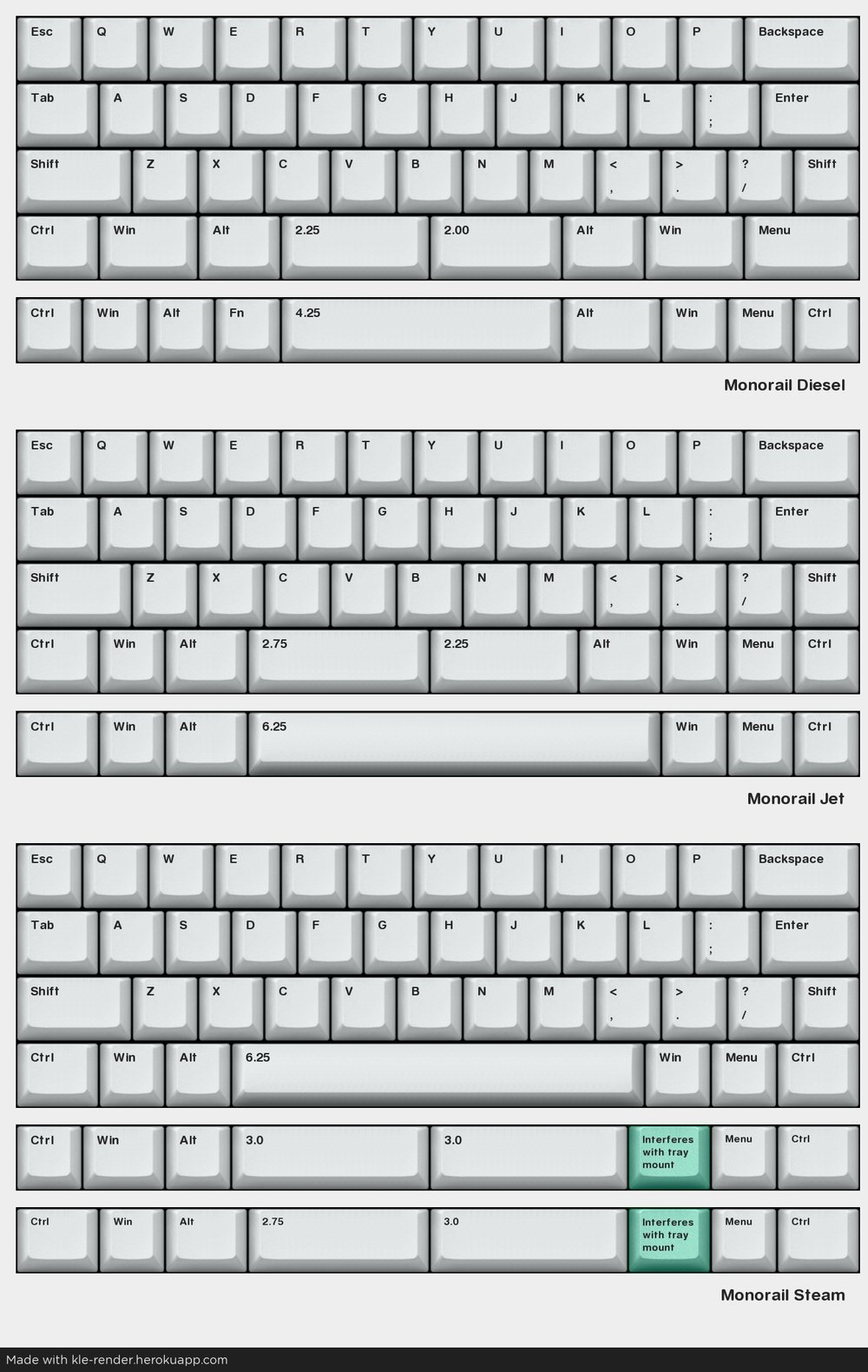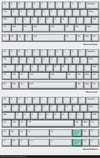 The same Monorail you love, now with Encoders and the RP2040!
The means more flexibility, more powerful firmware features, and a lower cost!
This is for a PCB ONLY, no case or plate.
Three red indicator LEDs are included.
These PCBs are black with White silkscreen.
Monorail is a series of Minivan-compatible MX hot-swap PCBs that feature a break-away half-numrow to fit in V4N4G0N cases. See these links for a history lesson:
Minivan Keyboard Wiki
V4N4G0N Keyboard Wiki
Monorail PCB Wiki
These PCBs are compatible with V4N4G0N and (most) Minivan cases. Snap off the top numrow to fit the board in Minivan cases.
See the Minivan Case compatibility matrix to see which cases may not work. If your case is not listed here, then it is fully compatible with the Monorail PCBs.
The PCBs support the standard van tray-mount locations, and sport twelve (12) addressable RGB LEDs for underglow. New to this Version 2, there are encoder positions in the ESC key position, and on the far left and far right of the half-numrow. Only one encoder may be installed at a time.
The USB port on the right side can be snapped off for Vanagon case compatibility, and there is a JST connector footprint (connector not included) for a Universal Daughterboard. The half-numrow has all of the necessary connections broken out to through-hole pads, so you can electrically re-connect the row if unintentionally severed. (You can also break this row off and wire it to your own PM or similar for a little macropad)
This Pre-Order is for the production run of in-stock boards. These will be black with white silkscreen, and a HASL finish on the exposed copper.
There are 3 layout options, each is a separate PCB:
Here is a KLE of the layouts
Monorail Diesel: OG Minivan, Southpaw, and Arrows
Monorail Jet: Jetvan/Minisub
Monorail Steam: FT (1u WKL / 1.25u HHKB), m3n3vn, and an exclusive 125-100-125-275-300-125-100-125 "symmetrical" layout
Note that there will be interference with one of the 1.25u hotswap sockets in tray mount cases when using the Steam layout. The offending socket is labeled in the KLE and on the PCB Wiki. You may omit this socket (and the subsequent layouts) or use a case that does not have a tray mount point at that location. This limitation does not apply to the Diesel and Jet layouts.
The PCBs are pre-flashed with Vial firmware. Firmware source, pre-compiled firmware binaries, and plate .dxf's are available on Github. https://github.com/KiserDesigns/Monorail/